2023 Season (New!)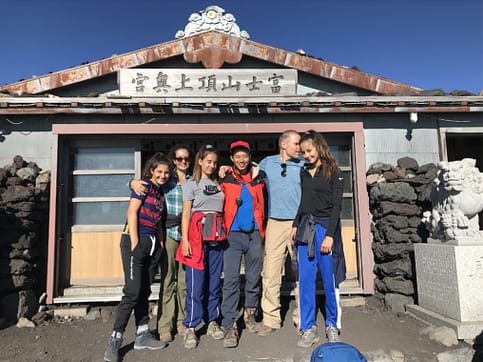 Climbing season: 7/1 ~ 9/10

JIN offers private Mt.Fuji tours with experienced guides.
From 2022 we give an online preparation session on Zoom for guests.
Ask us anything -equipment, access, or acclimatization – and enjoy climbing!
Types of Tours
◆Standard 2Days Tour ◆
This is the most popular style. Trekking from the 5th station and overnight at a lodge at the 8th.
Watch a sunrise from the top. Let's enjoy the crater trek above the clouds!
One online preparation session is available for free.
◆Easy 1Day Tour◆
Start with city walking and visit the special shrine of Mt.Fuji.
Then trek from 1st station to 5th station through a holy forest.
Coming back by bus to the starting point or Shinjuku station.
※We don't offer online preparation sessions for this tour.
Price 10,000JPY~ Check Airbnb Experience.
◆Arrenged Tour◆
We can arrange 3-day tours, a perfect pilgrim from 1st station to the summit.
Please be free to ask us. Contact Us
◆Virtual Tour◆
We offer an online experience on Airbnb. Virtual Mt Fuji Climbing Tour
More than 200 times we invited guests to the virtual summit.
Price 10,000JPY~ / group
New Standards
We follow new standard regulations for Mt Fuji climbing.
New standards in English (PDF)
Official Info about Mt.Fuji climbing

Mountain Hut's preventative measures of Covid(Japanese only)
-A private disposal seat for sleeping bags
-Personal space in sleeping rooms
-A new strong ventilation system
Overview
Main guide Kenji is a professional Mt Fuji guide since 2004. He devoted himself 9 seasons so far and climbed Fuji more than 100 times.
We have other guides who had climbed 100+ times.
Fuji is a special mountain. Not only the highest in Japan.
It is a noble peak, loved by many people for its beauty, and Fuji is a symbolic mountain and a home to the Japanese heart.
Fuji also has been a religious mountain for a long time. It was climbed by many pilgrims from all over Japan. Even today, many Japanese have a desire to climb Mt. Fuji once in a lifetime. That is why it was registered as a UNESCO World Cultural Heritage Site in 2013.
We'll take risk management, pace control, climate judgment, and advice for acclimatization and explain natural features and cultural background. Then, trust me, your summiting probability is overwhelmingly increased and your climbing gets ​totally different from the ​climbing alone.
We are happy to support your climbing and wish you success.
Price 2023 ver – standard 2days tour
1 person 140,000 JPY (140,000 JPY per person)
2 people 180,000 JPY (90,000 JPY per person)
3 people 201,000 JPY (67,000 JPY per person)
4 people 220,000 JPY (55,000 JPY per person)
5 people 245,000 JPY (49,000 JPY per person)
6 people 264,000 JPY (44,000 JPY per person)
7 people 280,000 JPY (40,000 JPY per person)
8 people 304,000 JPY (38,000 JPY per person)
9 people 342,000 JPY (38,000 JPY per person)
10 people 370,000 JPY (37,000 JPY per person)
(Up to 10 people)
Itinerary -2Days Tour-
Day 1
12:00 Meet the Guide on Mt. Fuji Yoshida route 5th Station. Google Maps
13:30 Start Climbing from the 5th station.
17:30 Arrive at a hut at 8th station and Dinner. 
Short sleep at the hut.
(O/N Mountain Lodge B×,L×,D(○)) 
Day 2
02:00 Departure from Lodge.
04:00 – 05:00 Arrive at Original 8th station. Rest and Breakfast. You can enjoy the sunrise if the weather is clear.
7:00 – 8:00 Arrive at the Top of Mt Fuji.
08:00 Walk around the crater if the weather is fine. 
10:30 Start Descending.
14:30 Arrive at the 5th station. This is the end of the tour.
(B(○),L×,D×) 
Detail of the trekking route
【5th-7th】
Start climbing by passing through the gate. Walk on flat and easygoing path in the forest. I'll explain the wildflowers and scenery you can see. After 1 hour, we'll reach 6th station, then you can see the summit and steep zigzag path there in good weather.
Then authentic climbing starts. Gradually trees and even grass will disappear. 1.5 hours tough zigzag upending, then reach 7th station.
【7th-8th】

7th station has 7 mountain huts. From the first hut, the rocky path will start. We're going to climb using your hands sometimes. Usually, your breathing getting tougher, but keeping a ​slow and steady pace is really important.
After 2 hours of climbing, you'll reach the last hut of 7th station.
Then climbing 45 min to 8th station, and your goal "Taishikan hut". Congratulations!
This is 3,000m(≒10,000 feet), very high. In good weather, you can see the ​magical starry sky and magnificent sunrise there
【8th – Original 8th】2hours / 3,000m – 3,400m

At midnight, we start to climb with a headlamp.
The path is well organized and easy, but you'll struggle with cold, less oxygen, and maybe sleepy.
If the weather is clear, you can enjoy starry sky and night view of Tokyo. The sky gradually becomes brighter. We take a break for sunrise in a hut at the original 8th station.
【Original 8th – Summit】2hours / 3,400m – 3,750m

The path is similar. The summit is approaching in your sight. This is the most physically and mentally tough part. The last 30 min is a rocky part, you may use hands to support.
Going through "The Torii gate" of the summit shrine, you'll be at the summit. I'll take you to the shrine and a hat where hot drinks and noodle are available. You can buy good luck charm only available here.
【Crater trekking】1.5hours

This is the highest trekking route in Japan, turning around the Mt.Fuji crater. Path is flat except a heart beating slope to the peak(3,776m). You can see the magnificent crater and 360-degree​ dynamic view from Mt.Fuji. This is a gift for summiter.
【Summit – 5th】4hours / 3,750m – 2,300m

All the way go down to 5th station. The path is sandy and some part is steep. you'll see a ​sea of clouds, coastline, mountains of Hakone, Japanese alps, etc
Meeting Point of 2Days tour
Mt. Fuji 5th Station [Yoshida route] Google Maps
Access – Direct bus from/to Shinjuku Sta. by Fuji kyuko bus
※Online bus booking available. (Search by keyword "Mt.Fuji" )
Drive/train/bus to Mt.Fuji Sta. Google Maps then bus to 5th station
Includes
 ・
1 English-speaking experienced mountain guide
. 
( From Day1 5th station to Day2 5th station)
・Guide's accommodation fee, meals, transportation.
・Online lecture and advice before climbing. (using Zoom )
・Short culture tour in Mt.Fuji shrine
・1 special photo book which is available only from the mountain hut
・Entry fee of the national park ( 1,000 JPY p.p.)
Not Includes
・Guests' accommodation ( with dinner, brekfast box, sleeping bags ) fee.
 ・Guests' other meals, and transportation to/from the 5th station.
 ex) Day1 lunch @ 5th station restaurant,  Day2 lunch @ 5th station restaurant  
・Toilet tip 200~300 JPY
・Rental equipment fee ex)  Rain jacket & pants 2000 JPY, head rump 500JPY,  
   total set 7items 14,000 JPY ~ 
・Insurance for Accident
※Please obtain accident insurance by yourself
Accommodation Fee
| | |
| --- | --- |
| Sunday, Monday to Thursday | 12,000 yen per person |
| Friday | 13,000 yen per person |
| Saturday, 17th July, 11th and 12th August | 14,000 yen per person |
JIN uses Taishikan Lodge at 8th station. Good location hut with First aid station.
Prices above are for Mixed dormitory. You can choice private rooms + 3,000JPY~.
This includes meals (Day1 Dinner. Day2 Breakfast box).
Please book and pay in advance. Credit cards are available.
Notification
There is a possibility that the schedule changes or cancels or discontinues depending on weather, the crowded condition of the trail, the safety for customer. The sunrise [Gorai-ko] might not be able to be seen according to the weather.
There are few days in the season that we can not start climbing from 5th due to extreme weather like typhoon. In that case we will refund 100% of the fee including lodge fee.
General information is available on the website of the mountain hat.
http://www.mfi.or.jp/taisikan/index_en.html
Contact
Cancellation policy
2weeks – 4days prior 50%
3days – 1day prior 80%
24hr prior – Same day 100%