Guides
Kenji
Language
English

Speciality
Hiking, Cycling. Mt.Fuji
Comment
I love travel. Let's have a fun together.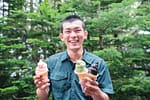 Ko
Language
Japanese, English

Speciality
History, Religion, Nature

Comment
Let's have an exciting tour together.
Daiki
Languages
English, Spanish
Speciality
Arts, Kyoto culture, trekking
Comment
Encounters with unknown things and people.
I would like to share with you the best part of traveling, discovering and feeling the charm of Japan.
Let's have fun together!
Idiomas
inglés, español
Áreas de experiencia
Arte, cultura de Kioto, senderismo
Comentario
Encuentros con cosas y personas desconocidas.
Me gustaría compartir contigo lo mejor de viajar, descubrir y sentir el encanto de Japón.
¡Vamos a divertirnos juntos!
Koichiro
Language
English

Speciality
History of Japan, Culture, Food Culture, Lliqueur including wine, sake and whisky, eating, technical interpretation

Comment
Friendly, buzzful and fun.
Taka
Language
English

Speciality
Building, City Planning

Comment
I would like to be a guide that gives you a deeper understanding of Kyoto, rather than just sightseeing. I would be happy if the conversation with myself as a student living in Kyoto would be an opportunity to learn more about Japan and Kyoto.
Yoko
Language
English, Chinese (Beijing)

Speciality
Food culture, History and Art

Comment
Let's enjoy the beauty of Japan together! We are so exicited to meet you!
Koke
Language
English

Speciality
History, Religous Culture

Comment
I can guide you as a local resident of Kyoto city!
Aya
Language
Spanish, English

Speciality
City Walking, Life Culture

Comment
Let's walk together with me in beautiful cities like Kyoto, Osaka or Nara. Ask me everything about Japan or Japanese lunguage. Here am I to answer them!
Keiko
Language
English

Speciality
Cooking, walking around Kyoto, visiting Kyoto World Heritage Sites, experiencing (Matcha, Matcha art, calligraphy, making Japanese sweets, Japanese home cooking)

Comment
I will be happy to help you create wonderful memories!
Yurin
Language
Chinese, English

Speciality
Art, Music, Fashion, Motorbike

Comment
My English & Chinese are not there yet, but I'll help you enjoy your stay in Japan, with all my love.
Kazuma
Language
English

Speciality
History and Culture


Comment
I promise I'm gonna give you a fun and informative tour!!!