Whether you are a first-time climber of Mt Fuji or a repeat climber, make sure you are prepared for the climb!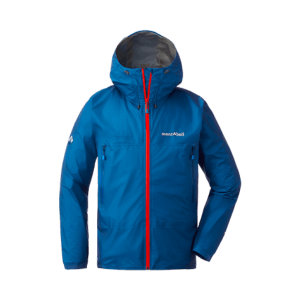 Separate upper and lower rain wear for the mountains. Fishing or golfing gear is also fine.It is best to buy at a mountain gear shop, but can also be purchased at DIY store.Rain wear, vinyl rain wear, ponchos sold at convenience stores and 100 yen shops cannot be used as rain wear on Mt Fuji.Waterproof functionality is important.
The average temperature at the summit of Mt Fuji is 4.9°C in July and 6.2°C in August,  The average wind speed is 8.5 m in July and 7.3 m in August. Two layers of warm clothing are recommended: a fleece and a light down jacket.
Uniqlo clothing is also acceptable.
The shoes should be mid-cut or high-cut with thick soles and ankle coverage.
The thick soles absorb the impact of the descent, which greatly reduces the strain on the knees and hips. The ankle-covering footwear is more secure and less prone to sprains. The shoes should be tried on.
Choose shoes 0.5-1 cm larger and adjust with socks. Sometimes two pairs of socks are required.
A 20-30 litre mountaineering rucksack is recommended. A thick, solid waist belt and shoulder straps are recommended.
It is also important not to carry too much baggage. Take waterproofing measures, for example, by putting a change of clothes, valuables and other equipment that should not get wet in plastic.
Headlamps are essential on sunrise tours, as you will be walking at night. Even on tours where you do not walk at night, you may need to use a headlamp. The headlamps are not hand-held, but worn on the head.
Use when descending. Two sticks are useful for stabilising the descent and reducing the strain on the knees and hips.
Ultraviolet rays on Mt Fuji are 1.3 times higher than those below. If your skin is weak, you will burn. Waterproof sunscreen, hat and sunglasses are recommended.
When we get altitude sickness, we sometimes feel sick and can't eat solid food. Jelly drinks are a convenient way to get nutrition and water.
Fuji, it is useful for wiping your hands and body, as there is no water on Mt.Fuji.
Use for protection from the cold and to protect your hands when walking on rocky terrain.Work gloves are also fine, but chemical fibre gloves are warmer.
Fuji toilets are chip-style and only accept 100 yen coins. It is better to have a few coins to start with.The toilets at the top of the mountain are 300 yen, all others are 200 yen.
500ml – 1L should be sufficient at first. If you run out, you can buy more at huts along the way.
Three meals a day for breakfast, lunch and dinner are not enough.  It is good to have some energy food such as cookies and rice crackers. You can buy them at the mountain huts along the way.
吾輩は猫である。名前はまだない。どこで生れたか頓と見当がつかぬ。何でも薄暗いじめじめした所でニャーニャー泣いていた事だけは記憶している。
吾輩は猫である。名前はまだない。どこで生れたか頓と見当がつかぬ。何でも薄暗いじめじめした所でニャーニャー泣いていた事だけは記憶している。
If you're abroad, get your own insurance. Cover should be provided by your own travel insurance.
(i) A total of 15 hours over two days, walking the full distance. Leg strength is required due to the ups and downs.
(ii) The air is thin due to the high altitude, so cardiopulmonary function is required.
Three-Recommended Training
I. Climbing for 3 hours to a day trip.
Walk uphill and downhill trails to strengthen leg muscles.
Apply a little load every day. Prevents knee pain.
Take up aerobic exercise that increases breathing and heart rate.
Support during the climb by the guide
The guide sets a slow, steady walking pace. This not only reduces the physical load, but also gives you more mental space so you can take photos and enjoy chatting while you climb.
Advice on how to walk and how to carry luggage. This helps to prevent injury and altitude sickness.
Expert advice on altitude sickness. Hydration, breathing exercises and stretching are frequently incorporated.
The direct bus from Shinjuku (Tokyo) to Fuji-Subaru Line 5th Station is the fastest and most convenient way.(Adults 3,800JPY, Children 1,900JPY Travel time: Approx. 2h 25min)
*The highway buses from Shinjuku fill up quickly, so early reservations are recommended.
Fuji fifth-station can be reached by mountain bus from either Kawaguchiko Station or Fujisan Station. (Detail)
No booking. Show up and ride on.

Mt.Fuji in summer has a period of car-free driving restrictions, so please check the latest information.
If coming by hired car, please contact the respective hire company.

Check here for the latest information on climbing Mt.Fuji!