2023 season was successfully finished!
2024 season booking will start from January.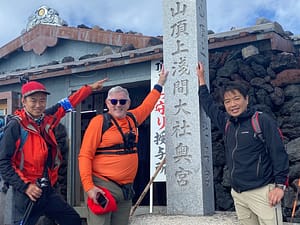 Officially certified guides with an experience over 10 years / 100+ climbs of Mount Fuji exclusively guide you.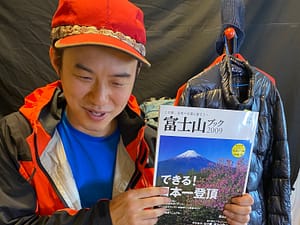 We will provide an online session prior to the climb to give advice on preparation, transportation, and accommodation. 
This service is for private tours.

We are professionals who love traveling. Leave your 3-generation mountain climbing, cultural/historical sightseeing, honeymoon, and more to us.
JIN, the representative, worked at a travel agency and guided people through over 50 countries before becoming independent. Since 2004, Mount Fuji guide.
He has been a member of the exploration club since his student days, delving deep into travel and local culture. After flying as a pilot, he became an English guide. Mt. Fuji climbing guide since 2014.
He loves Sagrada Familia in Spain and leads a dual life between Barcelona and Japan. Recently he published a photo book "Fugaku Zero Kei". Mt. Fuji climbing guide since 2013.
Climbing Mt. Fuji in the traditional style is the most popular itinerary. On day 1, meet at the 5th Station on the Yoshida Route Subaru Line and climb for 5 hours to the Taishikan mountain hut. Spend the night there. On day 2, depart early, watch the sunrise at the Original 8th Station, then head to the summit. You can return to Tokyo or Osaka on the same day. Alternatively, you can take a course to see the sunrise at the summit or rest at the mountain hut until morning.
This is a popular itinerary in recent years, with a relatively easy and relaxed schedule. On the first day, we gather at around noon at the 5th Station on the Yoshida Route Subaru Line and head to the mountain hut at the 7th Station (about 2,800 meters) in about three hours. On the second day, after watching the sunrise at the mountain hut, we check in at Taishikan mountain hut at the 8th Station (about 3,100 meters) and reduce our luggage to head to the summit. After reaching Japan's highest point, we return to the 8th Station before evening. On the third day, we watch the sunrise again in front of the mountain hut and disband around 9:00 a.m. at the 5th Station.
Steps to Climbing the Mt.Fuji
JIN's reply – availability, accommodation, date, price and deposit etc
Finish the deposit transaction via Square . Credit cards available.
※ This deposit is to fix your schedule on JIN's calendar.
※ If you are thinking of the tour within a month, please pay the tour fee altogether.
Booking the accommodation after April 23rd.
※ JIN cannot book the lodge instead of you due to a legal regulation.
※ We will help and tell how to book as much as possible instead.
Online lecture of 1hour Zoom meeting. Preparation, Gears, access etc.
This is like a consultation provided by a guide.
Finish the payment for the remaining tour fee via Square. Credit cards available.
※ This must be finished at least 30days before the tour.
Preparation – gears, transportation, exercise at your own.
Let's go!!
Included in Private and Shared Tours
1 English-speaking experienced mountain guide
Entry fee of the national park
Guide's accommodation fee, meals, transportation.
※When we use unassociated lodges, this fee will be charged. No charge for Taishikan lodge
Included in only Private tours
Online lecture and advice before climbing : one session per whole group
Short culture tour in Mt.Fuji shrine
 Mt.Fuji photo book limited edition : one item per whole group
Not Included in Any tours
Guests' accommodation fee ( Bed with dinner, breakfast box, and sleeping bag )
Guests' other meals, transportation to/from the 5th station.
Toilet tip
Rental equipment fee
Insurance for Accident
※Please obtain accident insurance by yourself
When a reservation is canceled for guest's reason, following cancellation charge will be assessed at the following rates. (calculated from the departure date of the tour)
More than 2 weeks before: Full refund. However, if there are any online lecture fees or other actual costs incurred, only the actual costs will be charged.
2 weeks – 4 days before: 50%.
3 days to 24 hours prior: 80%.
24 hours before or after: 100%.
Note: This is for the Guiding fee. Lodging fee cancellation charges can be different.